Will Amazon's new Kindle Fire "kill" the iPad?
Naw.
That's the question we asked you this week. Amazon, on Wednesday, set the world on fire when it unveiled its long-awaited tablet. The Kindle Fire will run on a unique version of Google's Android operating system but it doesn't have all the nifty stuff that comes with the iPad. For example, it doesn't have a camera and there are no cellular options, no built-in GPS and no Bluetooth. The software options are minimal and, at 7-inches tall, it's smaller than an iPad.
But at $199 it's mighty cheap. The iPad, with all its nifty gadgets, starts out at $499. Because of this, some are claiming the new tablet will be an "iPad killer."
peHUB readers aren't buying it. Hardly anyone, or a meager 2.4%, thinks the Kindle Fire will destroy the iPad. However, a large majority, or 62.8%, does believe Amazon's new tablet will hurt iPad sale. Another 34.8% think it won't have a major impact on iPad sales.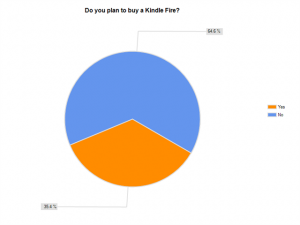 I was very surprised (and ridiculed by some of my coworkers because I was) that such a large majority, 64.6%, say they don't plan to buy a Kindle Fire. Another 35.4% do think they will.
We did have some write-ins. One reader, who calls themselves Ird, says the Kindle Fire may have stood a chance a year ago. "If a device doesn't match the iPad in size, weight or feel, it doesn't stand a chance," Ird says. "Like it or not, the iPad has taken on the iPod persona. Most are going to avoid others no matter what they have to offer."
But TouchWeb thinks that the Kindle Fire "is great and will definitely be an iPad killer."
Related posts: