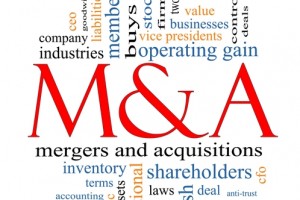 U.S. announced mergers in third quarter produced somewhat dismal results, while private equity transactions generated a major surprise.
The deal value for PE-backed transactions actually increased during the time period, according to data from Thomson Reuters. It wasn't just a small bump, but a 68% jump in deal value.
There were 1,810 U.S. announced mergers in third quarter, valued at about $247.1 billion, Thomson Reuters says. Deal value dropped nearly 20% from 2011 when 2,161 transactions in third quarter totaled $206.1 billion.
The biggest M&A transaction, Thomson Reuters says, comes from Kraft, which said in August it planned to split self into two.  Since that's not a typical merger, the next deal in line is Richard Schulze's $8.3 billion bid for Best Buy Co.
On the private equity side, there were 369 U.S. announced transactions in third quarter, totaling $43.3 billion. This compares to 2011 when 396 mergers were valued at $25.7 billion.
Here's the top five PE deals, according to Thomson Reuters.
Photo courtesy of Shutterstock
The quarter's fifth largest deal comes from Tallgrass Energy Partners.
In August, Tallgrass said it agreed to buy a slew of assets including Kinder Morgan Interstate Gas Transmission Trailblazer Pipeline Co., the Casper-Douglas natural gas processing and West Frenchie Draw treating facilities in Wyoming, as well as KMP's 50 percent interest in the Rockies Express Pipeline. Tallgrass is paying $1.8 billion.
Tallgrass is owned by management,  Kelso & Company as well as a limited group of investors led by The Energy & Minerals Group, including Magnetar Capital.