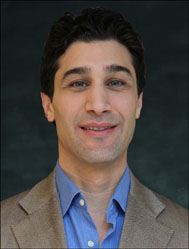 Samer Hamadeh has joined Lightspeed Venture Partners as an entrepreneur-in-residence. He is the former co-founder and CEO of Vault.com.
Here is Hamadeh's bio, from the Lightspeed website:
Samer joined Lightspeed in January, 2010 as an Entrepreneur-in-Residence. Prior to that, Samer Hamadeh was co-founder and CEO of Vault, the most trusted name in career information, which was sold in October, 2007 to Veronis Suhler Stevenson, a New York-based media-and-communications private-equity firm. Samer continues to serve as a director on Vault's Board of Directors.
Before co-founding Vault, Samer was an associate at the Los Angeles management consulting firm LEK Consulting, where he focused on corporate and business strategy. Prior to that, Samer co-founded and managed a customized-textbook printing company, worked at the Chevron Corporation, and co-authored The Internship Bible and America's Top Internships (Random House/Princeton Review).

In addition to the Vault board, Samer sits on the boards of the PeaceWorks Foundation and Dotmenu, Inc., which owns and operates campusfood.com and allmenus.com, as well as serves as an advisory board member at numerous early-stage companies. Samer is also a member of Young Presidents Organization (YPO) and the Georgetown McDonough School's Entrepreneurship Advisory Board.

A David Rockefeller Fellow, Samer holds a BS in chemistry and an MS in chemical engineering from Stanford University.
Related posts: