Nobody is picking up the phones today, so time for another dreaded top 10 list. This time, it's the year's most popular posts on peHUB. We've excluded all the First Read and Second Opinion posts, and consider the multi-page VC Walking Dead to be a single story. No idea why the top post was the top post, or why it became a veritable meeting place for GE Capital employees (past and present). We're just glad they chose peHUB to be their virtual dartboard. Each of these posts typically sits behind the firewall (peHUB subscriptions make great stocking stuffers), but we're pulling them out for a few days. Happy reminiscing…
1. The Ax Falls Tomorrow at GE Capital "Perhaps the pitiful
severance package isn't surprising, given the pressure on financial firms to curb executive pay. But since GE has not recieved any TARP money yet, that's hardly a valid excuse." Read the rest here.
2. Zappos CEO Wanted to Stay Independent, Sequoia Wanted Liquidity
"The decision to sell hot online shoe retailer Zappos to Amazon.com was more in line with the interests of Sequoia Capital than the company's CEO, according to two sources close to the company." Read the rest.
3. The VC Walking Dead "A few years back, I created a Word document called "The Walking Dead." These were venture capital firms that were officially in business — lights on, working websites, cash to support existing investments — but which no longer had enough cash to add new portfolio companies." Read the rest.
4. Fund Performance Data from UTIMCO "The University of Texas Investment Management Co. (UTIMCO) does not publish private equity performance data on its website, but is extremely responsive if you submit an Open Records request." Read the rest.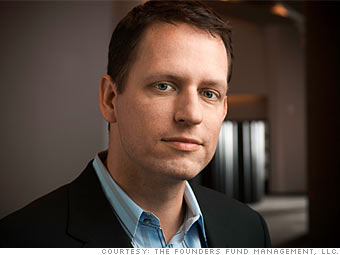 5. Peter Thiel on Valleywag: It's the "Silicon Valley Equivalent of Al Qaeda" "Though Thiel's profile has risen along with that of Facebook, making him the subject of numerous glowing profiles, Thiel, now 41, is also the target of harsh gossip at times. In the last couple of months alone, he's been characterized as a misogynistic weirdo, under the sway of an anti-immigration organization, and a tax cheat." Read the rest here.
6. Steve Rattner Leaves DC, After Buying $4 Million Home "When Steve Rattner stepped down as auto czar earlier this week, Tim Geithner said the following: "Steven Rattner, whose leadership and vision were invaluable to the Auto Task Force's efforts, has decided to transition back to private life and his family in New York City." Read the rest here.
7. The Biggest PE-Backed Busts of 2009 "This has been a particularly tough year for both buyout-backed and venture-backed companies, and it's showed in the number of bankruptcies and shutdowns. Well over 100 in all." Read the rest.
8. RSS Is Dead, And So Is The RSS Fund "All of this made me wonder whatever happened to RSS Investors, a venture capital firm formed in 2005 to focus exclusvely on real simple syndication. What I learned was that RSS Investors is even deader than RSS." Read the rest.
9. Why Is Steve Jobs In Memphis? "Apple CEO Steve Jobs lives at the end of a
quiet cul-de-sac in a swank part of downtown Memphis in a yellow house with white trim and a pool in the backyard. Or maybe he doesn't." Read the rest.
10. Remember That Company You Sold Last Year? The Buyer Wants Its Money Back "It's no surprise that in a crummy market, money disputes tend to surface more than when everyone is feeling flush. But it may surprise you to learn that those disputes are taking place over startups sold as long ago as in mid 2007." Read the rest. Thanks for reading!
Find new deal opportunities, super-charge your fundraising efforts and track top managers with VCJ. Get your FREE trial! Or subscribe now!