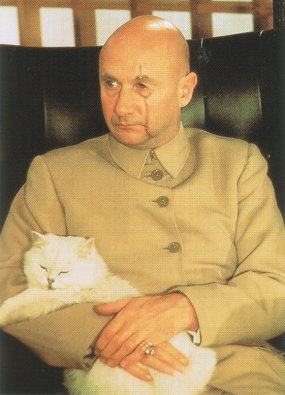 They aren't exactly Ernst Stavro Blofelds, stroking white cats at their desks, but VCs are assiduously planning how best to capitalize on the Consumer Electronics Show coming up this weekend in Sin City.
The investors' strategies vary, though one thing is clear: a growing number of them seems prepared to kick software to the curb if the right hardware opportunity comes along. Here's a snapshot:
Howard Morgan, founding partner at First Round Capital
"This will be my 28th year at CES, and this year in particular we're looking for Web connectivity devices, along with any interesting software pieces to exploit that connectivity, such as Blu-ray allows between different things like TV sets and mobile devices.
I'm also interested in new e-book technologies and the kind of content we'll start to see. We've made one, still publicly undisclosed, investment in the e-book area, on the textbook side of the world. But we're looking at other opportunities there. Think about the Kindle, now a platform that you can play on your iPhone or PC or Mac. We're looking for other platforms, including that will attach social media to your book reading.
Another thing I'll be taking a harder look into at CES is robotics.[Bill Gross's] Evolution Robotics [on whose board Morgan sits] will be announcing something in the elevated vacuuming area. Meanwhile, I'm very interested in robots that know where they are within the house and can do interesting things — unlike the Roomba that randomly bumps into things and hopefully works long enough to get things covered. Think of the WiFi-enabled webcam Rovio, which presented last year and can steer around house with a camera when you're away. We had an unfortunate investment in [the robotic baby dinosaur] Pleo that didn't'make it —  although it was a great product. But we continue to look in that area and we'd definitely do a hardware deal if it was a big consumer play."
Venky Ganesan, managing director at Globespan Capital Partners
"Our firm will be going into CES looking for fundamental technologies — the chips, the networking devices. We're looking lower down the stack. In the venture business, people have stopped paying attention to things lower down the stack because it hasn't been a great seven years for investing in semiconductors. Success hasn't come from true high tech companies but more from business model innovation and customer aggregation. But we think we're heading into another cycle of true high-end innovation and that now is the time to look at the chip companies that can fuel trends like enabling people to access things on non-PC devices, including tablet computers."
Richard Yen, director at Saban Ventures
"Among the things we're trying to figure out are those opportunities around content aggregation on Internet-enabled TV as more and more TVs are being redesigned with that capability. We're in talks with a couple of related stealth startups now that are premised on circumventing the cable providers and are headed by senior executives from well-known online video companies. It'll be a very long time before grandmothers start downloading videos onto their televisions, but it's the future; it will happen.
Also, as more and more consumers watch the Internet on TV, there's a greater opportunity for the kind of one-to-one targeting that the likes of Hulu are able to deliver to you and that your cable provider can't. We're spending a lot of time focusing on the opportunity for addressable advertising, and that's another thing we'll be watching for at CES."
Jim Jones, managing director at Scale Venture Partners
"Among other things, we'll be looking at technologies that could impact the companies we're already invested in and might invest in. One of those areas is 3-D television. A lot of announcements will be coming out of the show relating to 3-D content, as well as devices that will support 3-D TV.
ESPN just announced today that it's launching a 3-D channel that will show 85 events in 3-D. DirectTV is planning a 3-D station as well. And several TV manufacturers are coming out with new 3-D televisions. There were some things on display at the show last year but I think we'll see the first commercial projects this year, thanks in part to the success of things like [the box office hit] "Avatar." Where we as investors might find opportunities are in displays. There are some startups creating interesting display technologies that bring down cost, both for games and TV. We'll also be looking at semiconductor companies that support displays, and gaming companies that will be developing solutions and games.
This will be my 11th year, and mostly, I look at what the big companies are doing. Small companies don't and shouldn't spend the money to show a lot at CES. Really, CES just helps us crystallize our investing themes."