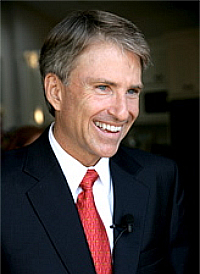 Steve Westly has already enjoyed several careers in his lifetime. A onetime Carter Administration energy department staffer, he went on to make a fortune as VP of marketing in eBay's earlier days, serve a four-year term as California's controller, and run for the state's Democratic gubernatorial nomination. (He was defeated by then-state-Treasurer Phil Angelides, who was himself defeated, soundly, by Arnold Schwarzenegger.)
As co-chair of Barack Obama's state campaign and one of his top fundraisers, Westly is still engaged in politics, but these days he's more focused on becoming a serious player in the venture capital world. His first step was making investments out of his own pocket from the Sand Hill Road offices of Kleiner Perkins Caufield & Byers, which has given Westly some space gratis. Now, he and his staff of six others at Westly Group are closing on a $130 million clean tech fund that includes capital commitments from the Tudor Investment Corporation, the State of Indiana Public Employees' Retirement Fund, Lehman Brothers, and San Francisco's Goldman family, heirs to the Levi Strauss fortune.
To find out more about how the firm has evolved since last year, I stopped by the offices of Westly Group yesterday, where I spoke with Westly and the firm's only other managing director, Michael Dorsey. Dorsey was a top investment banker at Donaldson, Lufkin & Jenrette and Cowen & Co. for about 20 years, and he's been a pal of Westly since they attended Stanford together 33 years ago. The two had some interesting things to say, including about how much of one's personal wealth should be committed to a venture capital fund. Here's part of our exchange:
Q. Congratulations on your new fund. I understand you've raised $79 million so far and have soft commitments for the rest. Has much of that has come from you personally, Steve?
SW: Well, we're very proud that our principals have invested between 20 and 25 percent of the fund, or just under $30 million. We think that that's a level of commitment that many LPs appreciate.
Q: You mean everyone at Westly Group has collectively contributed 20 to 25 percent of the fund? But the lion's share has come from you, correct?
SW: About $25 million is coming from me. But everyone is contributing the same proportion of his net worth.
Q: Which is what?
MD: We're all contributing about 20 percent of our assets. I'm putting up less because I have less.
Q: Wow, 20 percent is a lot, considering that at most partnerships, partners are expected to contribute 1 percent to maybe 3 percent of the fund's total.
SW: I used to sit on boards of CalPERS and CalSTRS [for the four years that Westly was state controller], and it didn't matter what kind of fund you had; the number one correlation to being successful was the amount of capital the principals themselves had committed. Why? Because they work like mad. If you have a million dollars of your own money in the deal, you're going to work pretty hard. I'm working pretty hard, too.
Q: It's an impressive commitment, but not everyone has $125 million or so at their disposal. As a general rule, 20 percent of a person's net worth seems awfully steep.
SW: Not at all. Anything else is like saying, 'I'm going to be deeply committed to you, I promise I'll only see a few other people.' If you think 1 or 2 or even 3 percent is a lot, then you shouldn't be raising such a big fund. I believe that strongly, and most of the people who are sophisticated, at CalPRS and CalSTRS, want to see the same thing.
Q: You already invested one fund in which you were the sole LP, a $12 million vehicle. Is it too soon to ask how that's doing?
SW: No, we were in the black 11 months after beginning this whole process because of Akeena Solar [which installs solar panel systems nationwide; Westly invested $3.5 million via a PIPE]. We've already sold $16 million. Perhaps even more interesting is [lead generation startup] Vantage Media. We think that by year end, it'll have revenues of more than $100 million and EBITDA of more than $20 million. A firm with those kinds of numbers is going to go public in the middle of the Great Depression.
Q: How are you coming across these companies?
SW: With Akeena, in a nutcase — I mean, nutshell! [Laughs.] This weekend, I called Rush Limbaugh a nutjob at a political event. I probably shouldn't have done that. In a nutshell, we knew that someone was going to have to install solar in the U.S., and we whittled about 200 companies down to 10 and from that group chose to back Akeena.
Q: Without Kleiner, it seems, which isn't involved with the company. Yet you've coinvested with Kleiner on six companies already, and with [former Kleiner general partner Vinod] Khosla on two. Would you say that you're getting most of your deal flow from them? Or perhaps it's going both ways?
SW: Deal flow goes both ways with Kleiner. Kleiner obviously has the best known brand name in the venture capital world. We're extraordinarily fortunate to be here. And we've been fortunate enough to work on some deals with them. And we occasionally bring some deals to them, but they've brought an awful lot more to us.
Q: Obviously, Vantage Media isn't a clean tech company. And you have a number of other investments outside clean tech, including gun location technology startup Shotspotter, and Revolution Foods, which delivers meals to Bay Area schools. Can you explain your strategy, and what you're telling LPs?
SW: We do consider Revolution Foods clean tech. If if you go into a standard school cafeteria today, you'll see a lot of hot dogs, fish sticks, frozen things that have been flown in from long distances, which isn't good for the environment, as well as contributes to the problem of childhood obesity. Revolution foods is organic, locally grown food, so it's good for people's health, and a positive thing for the environment.
But you're right, about 20 to 25 percent of what we're doing is outside clean tech, which is what we tell LPs will likely remain the case. We think diversification is good, and we're seeing a lot of great deals because of my experience in government and my experience in e-commerce from eBay.
Q: But it must also be harder to invest in clean tech this year than last, given the number of people to crowd into the space?
MD: Whenever a sector is hot, it attracts money and interest, but that doesn't mean deals are uniformly overvalued. Some have grown expensive, but others have relatively low valuations because within clean tech, they aren't hottest segment. I think to some extent that's true of green building materials.
Q: Would you back a capital-intensive biofuels plant?
MD: Yes, because if you get beyond a certain stage of risk there's lots of capital available. When the concentrated solar company BrightSource Energy raised its most recent, $115 million, round in May, a lot of that money came in from industry, from Morgan Stanley, from big engineering and construction companies for whom these big construction projects are their bread and butter. So as long as sufficient risk has gone out of a company, I believe there will be a lot of money available for a different category of investor at a much higher valuation. And really big companies, they can go public, I think. I also think that within every clean tech sector, there are probably good deals.
Q: Sensitive question, but is CalPERS among your LPs?
SW: I haven't gone to CalPERS to raise money, and I haven't spoken to any CalPERS staff members. We've gone to a number of gatekeepers, some of whom represent CalPERS because nearly every gatekeeper represents CalPERS. But I never wanted to approach the staff directly [because of my previous board experience]. I always wanted at least one firewall. It's a key issue. It's hard not to take funds from CalPERS. But it's been very important to me not to approach CalPERS or speak with any CalPERS staff about investing.
"Fund I"
Akeena Solar
Eka Systems
Fortify Software
Imperium Renewables
QuickHealth
Revolution Foods
Vantage Media
Verdiem
"Fund II"
Amyris Biotechnologies
CleanWell
EdeniQ
RecycleBank
ShotSpotter
Tesla Motors
* stealth solar company being announced this week